The AP US History exam is one of the easiest to study for, but you do need to make sure you are using the most up to date information as part of your review material. The last time the AP US History exam was changed was back in 2015, which means some of the older textbooks and study guides are obsolete.
The good news is that we have compiled all the latest information about the US History AP exam to give you a head start in your studies. In this post, we will go over everything you need to know to get a passing grade in US History, as well as highlight some little-known resources and textbooks that are available on sites such as Amazon.
AP US History Exam Information
The AP US History is broken down into two sections, which has two parts each, and four parts in total. The start of the test consists of 55 multiple choice questions, which should take you around an hour to answer. This part of the test contributes 40% to your final grade.
The other part of the test has four questions in short answer format, and should take you another hour to finish. This adds 20% to your overall mark. Next, you'll be answering one document-based question that contributes another 25%. The last part is a long-form essay question that should take you at least 35 minutes to write. This final question will make up the last 15% of your grade.
In order to get a feel for the kind of questions you might be asked in the AP US History exam, you are encouraged to look for past papers , which can easily be found online. Just keep in mind that the US History exam was changed back in 2015, so there will be similarities but it won't be identical to the real thing.
Review Materials
Like other subjects, the best publisher in the field of review and study guides is Barron. Barron has a complete AP US History prep book available for purchase, and it is the most highly recommended book among verified customers on Amazon.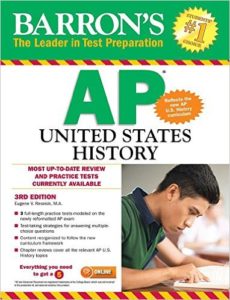 The book goes into extreme detail about all the key concepts and questions you could be asked as part of your exam. The book is also updated to latest syllabus and reflects the changes that were made back in 2015, making it an essential resource for serious students.
Not only does Barron's book contain everything you need to know, it also comes with two full-length practice tests to cut your teeth with. All of the answers and questions are explained in the book.
Cracking the AP US History Exam Princeton Review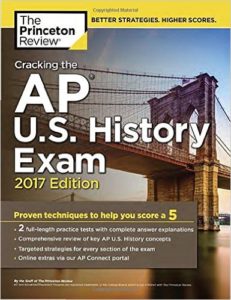 Another notable title in the field of AP US History is Princeton's review guide. The main advantage of this book is that it provides summaries of the major historical events that will be covered in your exam. The review-style of Princeton's book means that it can be a great refresher a few days before you sit your exam.
It's also one of the only books that actually explains how your essay will be graded, which is very important as it contributes a significant amount to your final grade.
As with Barron's guide, Princeton also includes two practice tests as well as drills at the end of each module for maximum retention.
Self-Study Tips
Although the material covered in the AP US History exam is fairly straightforward to study for, there is lot of it to go through, which is where the difficulty lays. It's also impossible to self-grade your own essays without an objective point of view.
In spite of this, it's still very possible to self-study for the US History exam if you give yourself an adequate amount of time to prepare for it. Aim to have your cramming done at least two months before you are due to sit your exams for maximum effect.
You should be going through Barrons or Princeton's study guides (or both) and answering each and every exercise you can get your hands on. There are also video tutorials that you watch on sites such as YouTube that might make your studying experience a bit more interesting.
The price for either book can be viewed by clicking the links above. Each link will take you to the publisher's product page on Amazon, where you can pay via credit card or Paypal. Each order should take between three and five working days to ship, so act quickly!
Also Read: Our Picks For World History Books