Welcome to our page on AP Art History. This exam is not the most difficult test that you will study for, but it's not a cakewalk either. Art History has a depth of knowledge that is not easily absorbed by many people. You will be required to analyze the content in full, as being able to memorize a significant amount of images.
You'll be shown several books and other resources that may help to make your studies easier. All of the resources present here have been updated for today's standards of AP Art History, as the exam was recently changed for the 2016-2017 school year. Older tests can be still be sought out and used a reference, but for the sake of efficiency, it is best to stick to the most up to date sources.
AP Art History Exam Information
There are two sections to the AP Art History exam: multiple choice, which has 80 questions, and free response, which includes eight questions.
The multiple choice segment of the test should take you around an hour to complete, and contributes 50% to your overall exam score. You will be expected to answer questions that are based on color images as well as route memorization.
The other half of the test involves essay writing that are 30 minutes long each. You will need to write six 15 minutes essays as well as part of this section, covering images and text.
As stated previously, the AP Art History exam has been changed to suit this year's syllabus for AP Art History. You can still use some of the older books and review guides, as most of the information will be the same, but it is still recommended to stick to the most updates sources of information.
AP Art History Review information
Below you will find the most recommended AP Art History books that you can purchase. These books were chosen due to their authoritative content, as well as the positive reviews from their readers.
Barron's AP Art History Book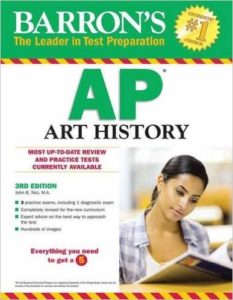 Barron's is one of the leading companies in the field of AP publishing. The company produces books and study guides to cover the full AP spectrum, and the company's work has been praised as some of the best in the industry.
Barron's AP Art History book reflects the changes made to the 2017 syllabus, and is the most comprehensive guide that you can buy and read about the subject.
The book comes included with a diagnostic test that will show you what areas you are strong and weak in. Each unit is neatly divided by subject matter, so you won't need to skim through the whole thing if all you want is a quick refresher on a couple of subjects.
Self-Study Tips
Although extensive, the content covered in the AP Art History exam is not overly hard to prepare for. You will just need to plan at least two to three months in advance to give you enough time for study. Anything less than two months at the minimum, and you are severely limiting your chances of getting a passing grade.
You cannot cram a weeks before sitting the AP Art History exam and expect good results; there is simply too much content for you to remember that it would be impossible. It's always best to stay on the safe side instead of doing something risky with your academic career.
It is recommended that you purchase Barron's book and make sure you understand all of the content that can be found inside.
The included practice tests will put your knowledge to its limits, and will reveal if you are truly ready to sit the AP Art History exam or not. You should do as many practice tests that you are capable of doing, before the exam.
It is always better to keep your study habits consistent as opposed to doing everything in one sitting. Your mind simply cannot absorb all the information that you need to memorize the night before the exam, or even several weeks to when you are going to sit the tests.
You should have a comprehensive study plan in place that includes how long you will commit to studying each day and stick to it. Aim for at least an hour a day, five days a week for best results.
You can view Barron's book on Amazon by clicking the link the above. There you'll be able to see the updated pricing information for the book, as well as the estimated time of delivery.
Also Read: Our Picks for AP Biology books