There are two different calculus exams that a student can sit: the Calculus AP and Calculus AB. On this page, we will go over what makes Calculus AB different to Calculus AP, as well as highlight some strategies that you can use in order to get the best possible grade.
We have also compiled the latest changes and information related to sitting the Calculus BC exam. You'll learn about the best resources that are available to students, as well as how to recognize and avoid certain pitfalls to maximize your success.
AP Calculus BC Exam Information
There are two parts the AP Calculus BC exam. The first section consists of 45 multiple choice questions, which accounts for 50% of your score. It should be noted that the first 30 of 45 multiple choice questions forbids the use of calculators.
The second half of the AP Calculus BC exam is a free response section that consists of six questions. The free response questions such take you 90 minutes in total to answer. You can use a calculator for the first two problems, the rest you will need to work out on your own.
Just like the AP Calculus exam, the BC test was changed for the 2017 school year. You will now need to understand the limit comparison test, absolute and conditional convergence tests, and alternating series error bound. There have also been some alterations made the number of questions per section.
Due to the above questions in the format and curriculum of the AP Calculus BC test, it is critical that you find an up to date source of review material that reflects the changes made. You cannot use an older review book as the questions covered will be out of date.
Best Resources for studying the AP Calculus BC Exam
Below you will find the best resources available to prepare you for the AP Calculus BC Exam. These books were chosen for their low prices and positive reviews. The price of the books below can be viewed by clicking the link below, which is where you'll be taken to the product's listing on Amazon.
Barron's AP Calculus AB And BC New Review Book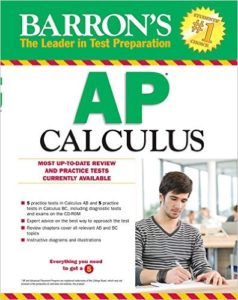 Barron's AP Calculus and BC review book is renowned as the best source of information if you are heading into your calculus exams. For some students, the best part about Barron's book is that it covers units in both the AB and BC calculus exams, which can save you money by combining both subject matters into one. If you are taking the AB and BC calculus exam, you will only need to purchase this book instead of two.
The book contains practice tests for both formats, and has the most up to date content that you need to know for the revised exam.
The book also features additional sections, such as how to get the most out of your graphing calculator while you are at the exams. You also get four extra practice tests that come on a CD-ROM. You get 11 tests in total to practice your knowledge, while other books only provide between three and four tests.
Self-Study Tips
The good news is that the BC Calculus test is exactly the same to study for as the AB exam. However, you should still give yourself an ample amount of time to study for the exam, even if you have already sat your AB. You can't expect to only study for a month and receive a good mark; you will need study for at least three months prior in order to secure your success.
A good strategy for the AP Calculus tests would be to go through Barron's book and highlight the units where you need to improve on. The included tests can be a great way to diagnose your strengths and weaknesses, allowing you to prioritize your study time more effectively.
It is recommended that you spend at least 100 hours in total studying for either AP Calculus test, even if you have taken a test on calculus in the past.
Barron's book can be reviewed on Amazon by clicking the link above. You can also read and learn from other student's experiences with the book as they detail what they liked about the guide in their reviews. You can also complement this book with free resources that can easily be found online, which can include past papers and free online practice tests.
Click the link above to get the current price for Barron's AP Calculus workbook.
Also Read: Our Top Picks For Chemistry Books