Welcome to our AP Music Theory page. Here you'll find links to a variety of resources that will be immensely useful on your journey towards getting a good grade in the AP Music Theory exam. These resources will include study guides that you can purchase, as well as free websites that detail everything you need to know.
The good news is that AP Music Theory exam is relatively simple to study for. Unlike other subjects, there are is no complicated subject matter to cover, and the exam has remain unchanged over the last several years. There are no plans for the AP Music Theory test to change either, which means you can virtually any resource book at your disposal for self-study.
AP Music Theory Exam Info
The AP Music Theory exam is broken down into two sections: multiple choice and free response. The first section is multiple choice, and contains 75 questions that you will need to answer. This part will account for 45% of your final grade, and should take you at least 80 minutes to go through all the questions.
The second part to the exam is free response. This section has nine exercises for you answer and lasts 80 minutes. The free response section makes up for the other 55% of your total score.
In addition to the highly regarded study guides found on this page, we also recommend that you check out the College Board. This website contains links to free resources that can help you get started in studying for your test, but nothing can beat a comprehensive source like a study guide.
Review Materials
It is recommended that you use Barron's AP Music Theory book.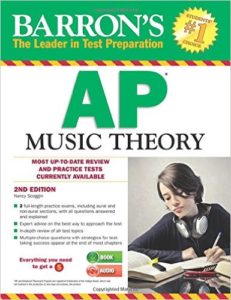 Barron is a leading publisher in the field of AP exams, and the company has released multiple editions to date. The best part of using a book by Barron is that you can be assured that the quality is top-notch. No other company can provide a better self-study experience than Barron, which is the reason for why they are the undisputed leaders in their field.
In addition to being a fantastic source of information, Barron includes practice test with all of their workbooks, so you can get some hands on experience with answering their questions. The practice tests involve listening and music score sections, with all the most common questions answered and explained at the back of the book.
Barron's AP Music Theory book also comes with a free CD that can enhance your aural skills. This CD is designed to be used with the drills and exercises that are used throughout the book.
There are many different chapters that cover everything you need to know for getting a 5 on the Music Theory exam, including some key strategies.
Self-Study Tips
Most students who sat the AP Music Theory exam said that it was relatively straight forward to get a 5 on the test. However, it is important to leave an ample amount of time for study before you enter your exams. Anything less than three months and you are cutting it dangerously short, and will also endanger your academic career.
The best way to study for the AP Music Theory exam would be to buy Barron's book, and to do as many exercises that you can handle. The more practice you get in beforehand will result in a much better performance on the real test.
Most students said that the listening part of the exam was the hardest. For this reason, Barron has included many different exercises that you can do to ace this section.
If you need additional help with the AP Music Theory exam, then you can always pick up a copy of the Royal College of Music book that is used in the Cambridge curriculum. This book contains traditional music scores that you can read to get your head around all the small details of reading music. The books by the Royal College of Music aren't as comprehensive as those offered by Barron, but they can still prove to be an invaluable resource for anyone who is due to sit their AP Music Theory exams.
You can find Barron's AP Music Theory book on Amazon, which is the website that has the largest selection of AP music theory books to buy. By clicking the link above, you will be taken to the product's page on on Amazon, and you'll be able to see the updated pricing and shipping information.
Also Read: Our Picks For Physics Books